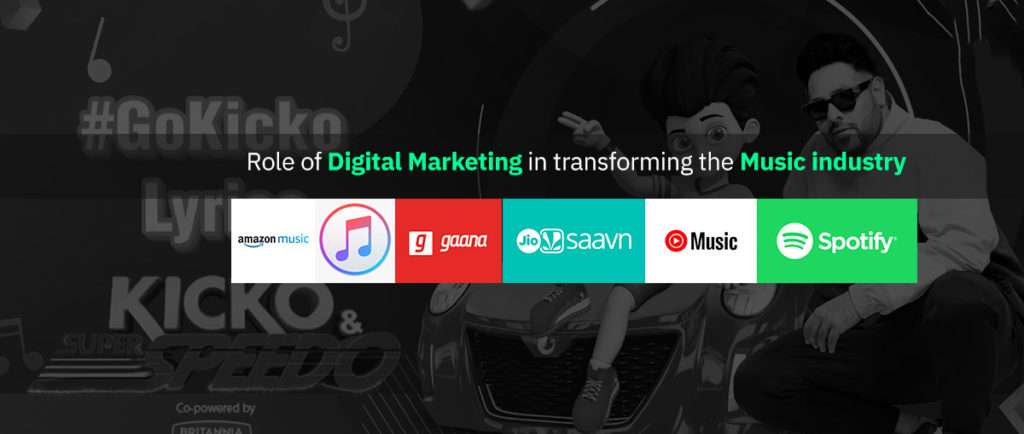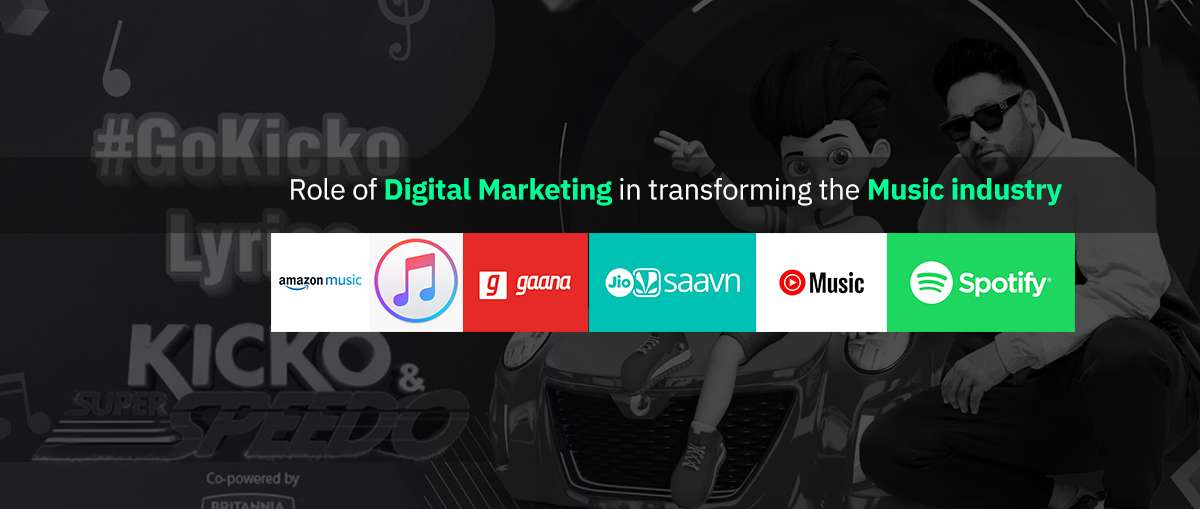 The growing power of tech in every nook and corner of our lives has completely changed the way we engage and experience music. The same applies for the music industry, their interaction with how they reach their audiences has evolved over the decades, and especially more rapidly within the past few years. Digitalization of music has been a true innovation and disruption in the music industry, making the landscape a more democratized space. It has indeed opened the gates of the music industry to budding artists who have the audiences at the touch of their hands now, only if they use the right digital marketing tools to their advantage, after all the digital music scene is now crowded and a cut-throat market space.
With only a few music labels and brands monopolizing the space a few decades ago to a global marketplace in our hands to reach out, streaming platforms have emerged as the true winners. These platforms offer artists launch platforms with an ease and with impactful digital marketing strategies incorporated in artist contracts. Giants like YouTube, Spotify, Apple Music, Amazon Music, Soundcloud and local Indian brands like Gaana, Jio Saavn, Wynk music and few others have been able to penetrate into towns, villages and cities across the country to grow their market base using data as their key metric. 
In simpler terms, the market for the music industry has never been this wide open, penetrating deep into niche segments and with cut throat competition. An increasing number of streaming platforms have given birth to a high number of artists arriving yearly, many giving up sooner than others simply due to the large number of tracks released on a daily basis from brands or at individual level. It is a numbers game, if your track does not get an expected audience turnout ratio, it's game over. For this reason, marketing plays a dominant role in reaching the audience and has to be creative, engaging, unique and quirky. 
Experts have hence noted that with such a crowded digital music industry scene in the present day, the real challenge is promotions to a wide variety of audiences. Developing an all inclusive marketing campaign that is able to reach all its potential audiences and capture all the opportunities – is non-negotiable. One needs the right tools, from the apt and fitting streaming platform, to partnerships and collabs with artists and brands, social media marketing, CRM solutions, link shorteners ( clicks leading to the right music video to watch – actionable point) and more are all essential for organizing the launch and distributing the music. 
Read More: Leading Digital business start-ups
The role of Data Analytics in the transformation 
The use of data analytics has been a game changer for the music industry and streaming platforms. Data not only empowers digital marketing but also offers building tools to reach the right target audience with a prompt call to action leading to an increasing number of views, sales and loyal customer base. Some of the focal points for artists when they launch their music are: 
Streaming channels

Radio

Social Media
All different but very connected spaces for musicians to launch and promote their music. One key element that binds them together is data, it helps to magnify the audience numbers and outreach plans. Here is brief look into how data plays a role in pre and post launch:
Before launch,

data analytics helps understand the right platform to launch, the right time with maximum audience hooked, and the right hook words that are bound to become popular if not viral. (Hashtags and popular keywords). It also helps you analyze data points of various players/ influencers on social media in the market to pick the right one for collaborations. 

Post launch

, data is crucial in understanding performance and amplifying further for larger impact. You can understand which kind of audience prefers the music more, which region/country it is more popular in, what age groups are sharing the music video the most, these data points help you to form strategies on how to further reach more relatable audiences and amplify the marketing plans.
Also Read: How Data Science optimizes Digital marketing?
In this way, digital marketing is a boost for the music industry and its evolution process. For eons music launches have had a top 100 to top 10 worldwide to country specific charts that are all based on how many times a track has been played, the most hits gets a track on the top 100/10 ( so on) list. Billboard that is behind these charts announced recently that it will take into account Facebook video streams for its chart calculations. Highlighting how crucial social media properties are in our world today, and how building a social capital for music artists is ever so essential. With pandemic, streaming became the essence of the music industry when there were restrictions globally on concerts, live tours and gathering. These streaming platforms kept the fans engaged with the use of emerging tech – AR/VR aided in building metaverse experiences.
With Billboard adding Youtube almost a decade ago, to now adding Facebook music videos in its list, and the growing tech space leading to building metaverse experiences, the lines of social and music experiences seem to be blurring faster than we can imagine.
Also Read: Role Of AR/VR In Transforming Education
Three elements seem to play a dominant role in building a digital presence and are also noted to be key ingredients in digital marketing: 
Content – Build the curiosity
Digital content today needs to be flexible, byte size and agile. This makes it possible to be reposted, easy to consume, and go viral quicker. You can always build something smaller, check how audiences react to it and keep building similar content if the data supports its success. It's all almost instant to track, visualize and strategize. 
Engagement – Keep it interactive
Social media platforms offer a ton of engagement opportunities and one needs to keep that as a focal point in their strategies. This is where you play with your content to boost your engagement with audiences, they want to be part of the process and feel connected. Building campaigns that make them part of the process are crucial. So is giving your audience the attention. Comments, likes, suggestion boxes, boosting interaction with reels, TikTok videos, shortened music plays for videos and more leads to work-of-mouth network building and a track of digital shares.
Data – Keep track to grow
Once you have the content ready with an ongoing engagement, you need to track how your audience is interacting with the content. Do they prefer one reel over the other, is there an age-group that seems to be spreading the digital word-of-mouth more than others, is your social distribution channel fully optimized? All these answers will help you form new strategies to target similar audiences that will boost your views and sales.
Also Read: Career Opportunities In Emerging Technologies
Data has sure been a strong backbone of this transformation of the music industry, and content has been able to spread as quick as it does with the help of multiple applications that are available globally. YouTube, Spotify, Amazon Music, Apple Music are some of the leading brands that have pushed the music sector and encouraged new artists. These channels offer multiple opportunities to artists to engage with their followers as well as ready to use templates for artists to launch their new singles and more.
The rapid rise in emerging tech, especially with Metaverse immersion, gaming based music concerts, avatar and animated (5D-7D) experience in musical performances are more upcoming venues that have a niche segment already spending their deep pockets on.  Digital natives are more relevant in today's music wave where change and evolution is key to becoming the next global sensation. Only finding new audiences to connect with can help to grow and sustain as an artist and digital marketing offers you just the right tools for this market penetration and expansion. 
If the opportunities here excite you to explore the dynamic world of digital marketing and data analytics, here is a glimpse into how you can be part of the disruption. BMS Digital Business course at Hetic will aid you in learning about the emerging tech, use of data and its role in digital marketing as well as honing your management skills, soft skills and design aesthetics. Collectively, these skills empower you to become an all-rounder for a managerial profile and kick-start your career with a deep rooted knowledge of technology, management and design. 
Coming soon: How YouTube played a significant role in transforming the global music scene..
Admissions are open
You can download the application form with this form