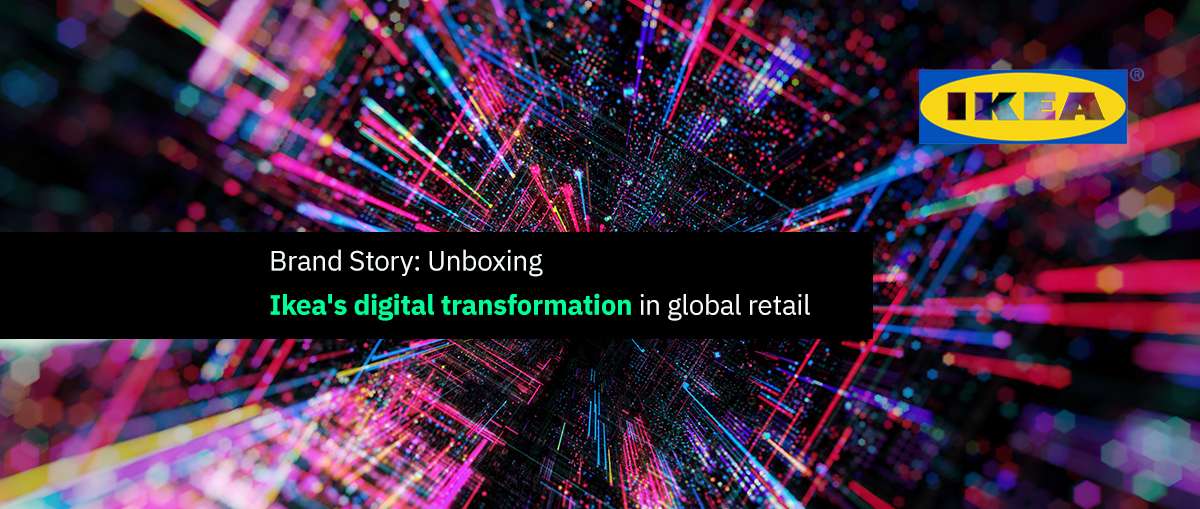 IKEA is a global retail brand selling home goods to people for decades now. They maintained their focus on quality goods like ready to assemble furniture, appliances, and accessories along with its strong analog distribution and business model. With changing times and everything becoming digital, IKEA knew they needed to adapt to the new tech and digital systems, not only was this necessary for them to stay relevant but also to grow and enter the next chapter.

How did a successful brand take their entire operations digital?
The first step IKEA took was to hire the seasoned professional in digital business and technology who had prior experiences ranging from Google to Samsung – Barbara Martin Coppola, Chief Digital Officer – IKEA Retail (Ingka Group). The brand went through a bold new direction that made them successful and able to gain new customers. Barbara headed the massive task of digital transformation for IKEA and under her leadership took the iconic global brand to sell 24 hours a day via their e-commerce operations and bring in a whole new digital ecosystem while sustaining the culture of the brand.
What did IKEA focus on?
Priorities for IKEA
With consumers changing their priorities, how they spend their money, what they spend on, changing consumption habits and behavioural patterns in global retail, IKEA was in search of a strategy that would embrace the change staying true to their values.
Also interesting to read: Why your business needs an Augmented reality strategy?
This called for a digital transformation that would bring in technology to help IKEA to open up to many opportunities, work more efficiently, find new sources of growth and penetrate into segments that they were not able to prior. Staying true to their core values was key and keeping this in mind Barbara brought in a strategy enabled by digital transformation. IKEAs priorities were to –
– Stay more accessible
Given that IKEA's operations were only via their stores, that were strategically located in out-of-town locations. The new strategy needed to focus on a digital change and that would mean being more accessible to people and at many global locations without any real-estate presence.
This means that now IKEA's customers are essentially a click away with the e-commerce store operational. Even if the customer is a small town or a large city – they should have access to many touchpoints at the e-commerce shop. The consequence of this was huge. Offering this option meant inventory flows have to be constantly updated across systems, it meant speed and agility in the way business is operated and meant merchandise needs to be different for various locations and people who deliver these need to have a different skill set too.
Also interesting to read: 5 ways how NFTs will benefit your business
– Be more affordable
A key component of their change was to stay affordable to the global audience. This means the products should be affordable for their customers in Netherlands, Germany to the new market they are in like India.
For IKEA, being affordable is key. While the product may be produced in one area, they need to be designed and transported keeping in mind the costs before profits are added and what that means for a population in Asia vs EU.  The more your peel the layers, the more strategic design, planning and a unique yet traceable way of production was required to be implemented.
– Become planet-positive
A big change most brands are working with is to be more sustainable in their operations. IKEA's core strategy included becoming more planet-positive in their operations and management.
This meant not simply becoming more eco-friendly, but for an iconic brand like IKEA – it was setting an example on how businesses in all sectors need to address this, bring it to their core strategy and stay relevant. With digital systems – production and supply chain issues like overproduction, waste materials, access materials – all could be easily avoided. A basic step to being more mindful towards our limited resources.
Technology and Data
IKEA reported to have tripled their e-commerce level over a period of three years.
How did they achieve this? Well, the simple answer is with the use of new and emerging technology and making the best possible use of data analytics.
In the words of Barbara, what IKEA focused on was-
Stores as fulfilment centres/ Data to manage shipments: IKEA made a point to transform their stores to also act as their fulfilment centres. And to make this work, their flow of goods, supply mechanisms and the floorplans – all changed. Goods could then be delivered from stores, or from their distribution centres and the digital data would help them to manage the location of the goods. This is where data and analytics play a huge role for changing the way IKEA's basic operations were taken care of.
AR/VR features:
Implementing these technologies was important for IKEA. They tested VR in stores and tried to visualize how a piece of furniture fits a room, what area it captures etc. This feature lets you scan your home one room at a time and turn your home space into a 3D model. How does it help? This 3D model helps you try out IKEA home product range from anywhere in the world and shop at home. A tool that indeed helps to democratize home design – making it accessible for everyone. All you need is the IKEA app on your smartphone.
Acquisitions
IKEA has acquired a few start-ups and brands over the past few years, most of them making waves in the technology and digital analytics sector. These have been key decisions for the brand. One great example is when IKEA acquired California company name Geomagical Labs who built an AI technology to help IKEA bring home visualization to a different level. This is a key component for IKEA to offer in their AR/VR features to their customers to shop at home. Another acquisition for the retail giant has been TaskRabbit.
Also interesting to read: 5 women tech start-ups you must follow
Managing the silos within the organization
Cross-functional teams: When a brand goes through such a transformation, many functions need to change. This means no more working in silos. IKEA's core digital transformation also needed to reflect to the company and its employees how essential it was to build cross-functional teams. These teams bring different expertise together for human interactions, a lot of communication and empowering them with freedom to execute tasks more promptly.
Removing layer of approvals: IKEA built their cross-functional teams without the multiple layers of approvals or other governance mechanisms like setting up committees and management layers for decision making. They empowered their teams to make fast, prompt, and apt decisions by giving them the decision rights to execute the changes they agreed upon and produce the results. One the teams were empowered – later came in the governance.
Barbara made a key point with the digital transformation that while the idea of digitizing may sound like we are moving away from human interactions, it in fact is the other way around. A successful digital transformation is enabling human assets of any firm to do more of what they love, enjoy and help them learn and try different aspects of a job that were not possible before. These changes should relieve people from repetitive tasks and further aid them in re-skilling so as they are able to carry out a variety of tasks or roles.
From revamping their meeting points with customers – at almost all touchpoints, especially e-commerce to inventory management, logistics and supply chain overhauls – IKEA has modernized through data. The brand is continuing to work on reinventing itself for the future and building up human-centric technology. This includes on how to embed ethical behaviour, treat people fairly without bias and work with respect for diversity – all via the help of and through technology. The brand continues to build trust via their digital efforts.
Also interesting to read: GenZ and technology – the new power couple
Want to become part of the global digital change in leading organizations?
A degree in BMS Digital Business from Hetic will develop your skills for three aspects: technical with data and technology knowledge, design knowledge and administration knowledge. Gain more information on the course, admission process and the international exposure offered by Hetic here.
Admissions are open
You can download the application form with this form