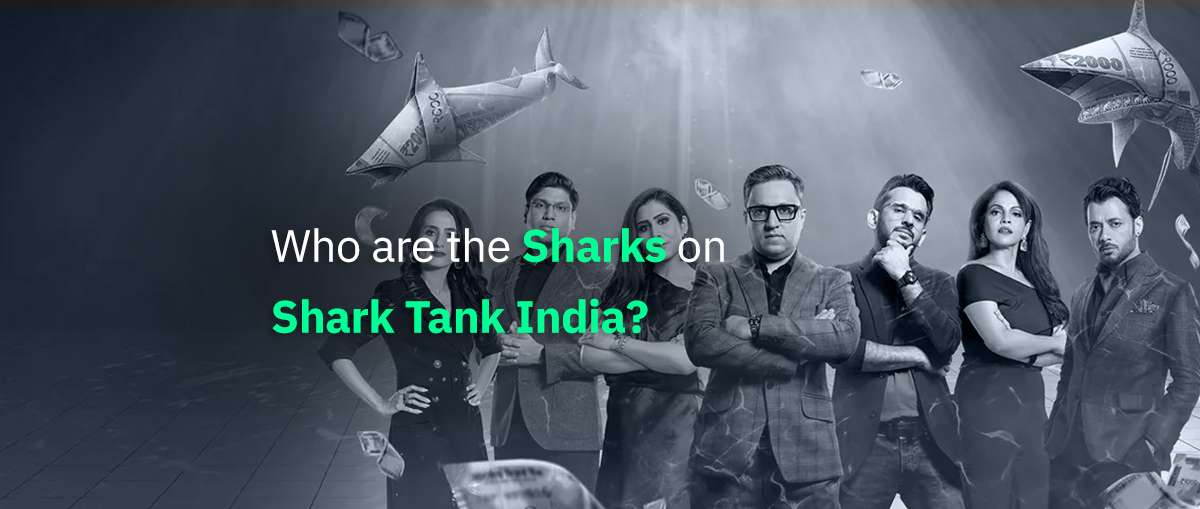 A popular series of the west encouraging entrepreneurs of all age groups to showcase and pitch their products/ services to a panel of investors made its debut in India in 2021 and soon became a successful reality TV series in the Indian subcontinent. With its unique concept, the show grabbed the interest of the nation quickly to become one of the most popular shows. This business reality show brings to you Sharks, they are the investors who are established entrepreneurs in India- each of whom have made a mark and name for themselves in their particular sectors. This debut season of Shark Tank India saw seven (7) different Sharks, let's take a look at who they are:
Anupam Mittal
Founder and CEO of People Group and founder of Shaadi.com, with a net worth of close to $50 million, he is one of the seven sharks on the show. He is an alum of Boston College and started his entrepreneurial journey post his master's – laying the groundwork for People Group.
People group is the parent company to shaddi.com, makaan.com. Mauj mobile application and People pictures. Anupam is also known as the co-founder of H2 and a founding member as well as a former chairperson of Internet & Mobile Association of India (IAMAI).
He also sits on the boards of LetsVenture Online, Zepo and advises ShadiSaga, Grip and Kae Capital. Mittal describes himself as an entrepreneur, investor, explorer and eternal optimist who has 200+ Investments in Tech & Brand Start-ups.
Read more: Emerging tech-based environment conscious start-ups
Ashneer Grover
Co-founder of Bharat pe, Ashneer is known to have a net worth of close to $60-90 million. He attended the prestigious IIT Delhi and IIM Ahmedabad. Post his MBA in finance he was working with Kotak Investment Banking for close to seven years as their vice president and was involved in many IPO transactions. He then went on to work for Amix and Grofers at senior executive leading positions.
Few years later, Grover launched BharatPe which today is one of the most popular payment applications in the country catering to a wide range of merchants in cities to small towns and villages. BharatPe was launched in 2018 by Ashneer Grover, Shashvat Nakrani and Bhavik Koladiya.
In early 2022 it is known due to an internal conflict between the founders, Mr. Grover resigned from BharatPe.
Also read: Tech trends influencing digital marketing 2022
Aman Gupta
The co-founder and CMO of boAt, Aman is one of the seven sharks on the Shark Tank India debut series. He is a CA (Chartered Accountant) by profession and then went on to finish his first MBA in Finance and Strategy from Indian School of Business and second MBA from Kellogg Graduate School of Management in the US.
He worked as an Assistant manager at Citi and co-founded Advanced Telemedia Pvt. Ltd. He then went on to work for KPMG and one of Samsung's owned sound brands. Along with Sameer Mehta he co-founded BoAt in 2016 and is estimated to have a net worth of about $95 million.
boAt today is one of the most sought after headset equipment models in India and is known to have gained a market share of 27.3% market share.
Vineeta Singh
The popular CEO and co-founder of SUGAR cosmetics, she is one of the judges/ Sharks on Shark Tank India. She is born and raised in Delhi and an alumnus of IIT Madras and IM Ahmedabad and is famously known to have declined a INR 1 crore job offer from a leading investment bank to follow her journey into entrepreneurship.
She is a triathlete and ultramarathoner, her passion for running has been a strong support for her that has helped her to challenge her limits and strive for more.
Today, as the CEO of SUGAR cosmetics, one of India's fastest growing beauty brands with a distribution network of 35,000+ branded retail outlets in close to 500+ cities, she is one leading business woman who is inspiring many Indian women to start their journey of entrepreneurship.
Vineeta Singh has been featured in Fortune 40 Under 40 list in 2021, The Economic Times, Times of India, Your Story and many other established publications.
Read more: India's tech unicorns
Namita Thapar
The executive director at Emcure Pharma ( an Indian multinational pharmaceutical company based in Pune) and one of India leading businesswoman, Thapar was born in Pune, Maharashtra and is a CA by profession. She went on to get her MBA from Duke University's Fuqua School of Business.
She joined Emcure as its CFO after working in the US for close to 6 years.
Namita is known to have spoken at Harvard Business School, IIM Ahmedabad, ET women's conference, FICCI and few other notable venues and centers.
She has recently launched her own YouTube channel coined 'Unconditional Yourself with Namita', wherein she talks and gives speeches regarding female well-being. She is also involved in multiple government programs including NITI Aayog's Women's Entrepreneurship Platform.
Ghazal Alagh
Co-founder and CIO of Mamaearth, Alagh is known as a prominent female entrepreneur in India and is today one of India's top businesswomen. She finished her graduate degree from Punjab University and also attended the New York Academy of Arts of study in figurative art.
She co-founded Mama Earth with her husband Varun Alagh in 2016, a brand introducing chemical and toxin-free skincare products to India. What started as an infant care products/ baby care products firm is now covering all types of skincare products/ a personal care brand that are 100 percent organic and free of chemicals. Alagh is known to have a net worth of close to $15-20 million.
Mama Earth today is one of India's fastest growing FMCG brands within the last 4-5 years.
Also Read: Why has Digital Transformation Become a Necessary Disruption?
Peyush Bansal
Founder and CEO of Lenskart, Bansal is an alumni of McGill University and IIM Bangalore. He is known to have a net worth of close to $80 million.
He started his career at Microsoft USA in 2007 after he finished his studies and then moved to India to pursue his dream of being an entrepreneur. While his couple of early start-ups did not do well, he had a major break with Lenskart in 2010. Lenskart started with selling contact lenses online and by 2011 also started selling sunglasses and eyeglasses.
Bansal also co-founded AQUALENS, based in Delhi in 2019. AQUALENS is a Lenskart funded business that is focused on supplying comfortable and fashionable contact lenses across the globe. Bansal is also a co-founder of John Jacobs, founded in 2015. The brand is also funded by Lenskart and aims to deliver the most fashionable eyewear in exceptional quality direct to consumers.
Read more: Indian brands leading edtech industry
If you are a young creator, idea-a-tor and seeking to be an entrepreneur, we encourage you to check the multifaceted learning course in BMS Digital Business at Hetic that will hone your management, design, administrative and technological knowledge, offer you immersive and engaging learning process, help you build a professional network to lead you to a successful career path.
Admissions are open
You can download the application form with this form